Dear Entrepreneur,
Entrepreneurship is about ideas. It is the foundation of everything—an insight into how to improve something, or what consumers want, or what they don't even know they want. Consider it: A business is an idea come to life; an entrepreneur is an ideas-driven person. And if you want to truly learn from the smartest people around you, and calibrate to their way of thinking, you have to ask, What's their core idea? So that's what we did for our June issue. We crammed 100 brilliant ideas—business concepts, inspirational quotes, book excerpts, hot trends, and even observations from a reporter who spent weeks tagging along with Gary Vaynerchuk—into one crazy magazine. I hope that, after reading through, you'll be inspired to add #101.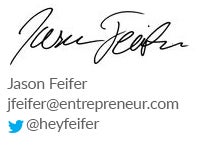 Gary Vaynerchuk is half man, half brand, half digital experiment. And somehow, that all adds up.
Read More
Subscribe Today and Save

Enjoy new solutions, emerging trends, and real-life stories delivered straight to your mailbox or mobile device.